The Safety of Our Staff and Patients is Important to Us: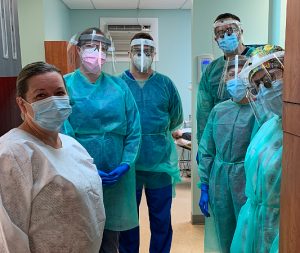 The safety of both our staff and our patients is important to us!
We're doing our part to make sure we're all safe during these Covid times. Here are some of the differences you'll experience here at GNDC:
All incoming patients will be asked this list of Pre-COVID questions before entering the clinic for their appointments.
All patients, like our staff, are required to wear a mask.
Patients will have their temperatures taken when the enter our facility.
Patients will be given an oral rinse at the beginning of their treatment.
We observe and enforce social distancing in our waiting room.
Please leave any non-necessary guests at home, or in the car.
Please bring your own pen with you.
Thank you for your cooperation in making our time together safer for everyone!
About the Dental Connection
Greater Nashua Dental Connection, Inc., is a non-profit organization committed to improving the dental health and lives of New Hampshire residents and aiming to increase funding, partnerships and program reach.
Good oral health is an essential part of overall health. The GNDC serves people of all ages, regardless of financial, linguistic, cultural or geographic barriers.
GNDC offers care to those who are eligible for benefits, as well as low-cost services to those without insurance or benefits. We are dedicated to offering significantly reduced fees to make quality care more accessible to those who may not be able to afford dental care on a regular basis.